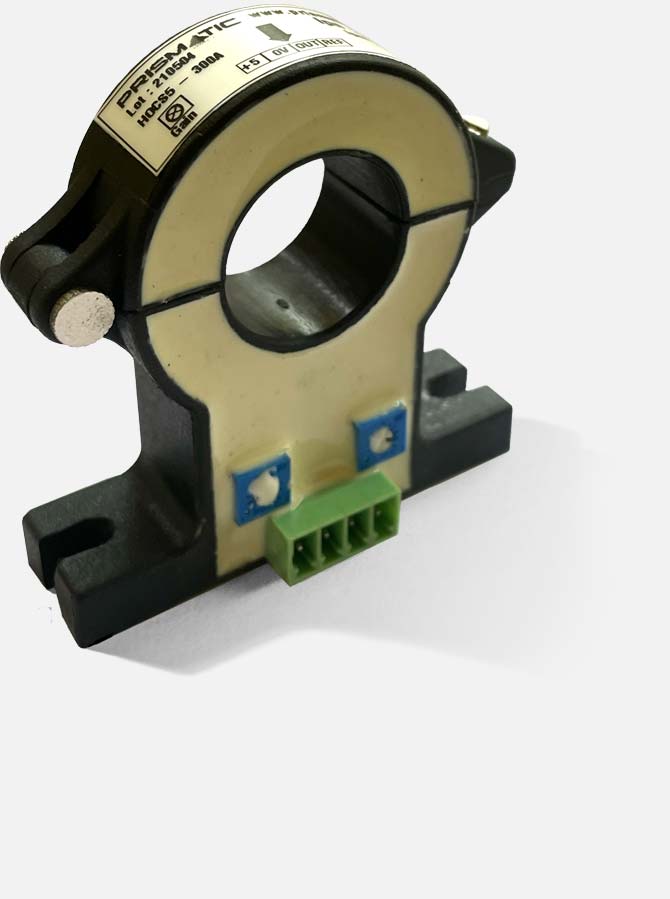 Open Loop Clamp-on: HOCS
Hall Effect
Prismatic's clamp type current sensors operate on the well-known Hall Effect principle. These current sensors are an excellent solution for sensing of Direct Currents as well as Alternating Currents of up to 3KHz, with excellent linearity and stability. The hinged clamp enables the easy installation of the device without the need for shut downs and disconnection of heavy primary cables.
Tech Specs
All dimensions are in mm. Not to scale.
Schematic Diagram
Current Rating

50A, 100A, 200A, 300A, 400A

Maximum Current

Up to 200%

Operating Temperature

0 to 50°C, -25°C to +85°C

Bandwidth

DC to 3KHz

Supply

+5V DC

Output Signal at Rated Current

+2.5V ref ± 1V (Output is 2.5V at Zero Primary Current)

Linearity

1%

Connection Option

Plug-in connectors or fixed cables (non-removable)
Notes
Other configurations on request
RoHS 3 compliance is available on most products, subject to our confirmation.
Specifications subject to change without notice.
General Tolerance: ± 1.0mm.